As a landlord, it's important that you familiarize yourself with the regulations under Texas law (TX Property Code Chapter 92). Among these are regulations pertaining to Texas tenants breaking their lease. 
A tenant may want to break their lease for a variety of reasons. Now, these reasons can be legally justified or not. When a reason is legally justified, the tenant can move out, without penalty, and you will have to find a replacement tenant. But when their reason isn't legally justified, you may be able to hold the tenant liable for the rent as it accrues. 
In this article, we'll cover both the justified and unjustified reasons for breaking a lease early. This will help you stay informed regarding what you can and can't do when either situation occurs. 
Rental Agreement in Texas 
A lease agreement is an important document to have as a landlord. Among other things, it can help you avoid potential confusion and misunderstanding with your tenant by highlighting your expectations. Consider reading up on the Texas Fair Housing Act to make sure every step of the lease writing process is done in accordance with the law.
Aside from covering the basics, a proper lease should also include the following terms. 
One, it should state what penalties a tenant should expect if they break a lease early. And while still at it, you'll also want to mention what rights they have for justifiably breaking the lease.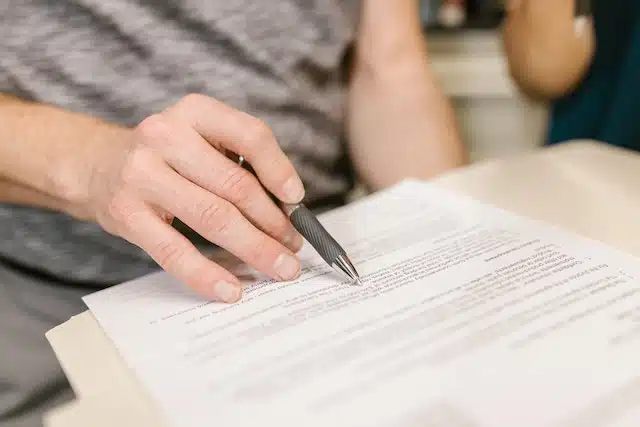 Two, a good lease should mention how much notice the tenant must serve you when looking to end their periodic lease. In the state of Texas, tenants must give the following amounts of notice. 
7 days to terminate a week-to-week lease. 

30 days to terminate a month-to-month lease. 
Tenants in Texas are not required to provide notice for fixed-term leases. 
Another term to include in your lease is whether the landlord has a responsibility to re-rent the unit to a new tenant. Under Texas law (Tex. Prop. Code Ann. § 91.006), landlords have a responsibility to re-rent after a tenant terminates their lease. And this is regardless of whether the reason is legally justified or not. 
Finally, a solid lease should also state whether a tenant can sublet the unit. Tex. Prop. Code § 91.005 requires that tenants obtain the landlord's permission first. Specifically, the tenant must send you a letter outlining the sublet lease agreement through certified mail. 
In the letter, the tenant must include the following information. 
Sublet term.

The name and address of the proposed subtenant. 

Reason for wanting to sublet the unit. 

The address of the outgoing tenant (if applicable). 

Written consent from the proposed co-tenant. 

A copy of the agreement between the tenant and the sublease. 
Unjustified Reasons to Break a Lease in Texas 
On their own, the following reasons don't offer enough justification for a tenant to legally break their lease. Breaking a lease early:
To move into the home they recently bought. 

After a divorce or separation. 

To move in with a partner.

Get closer to friends and family. 

Relocate to the new workplace. 
Terminating the agreement before the lease expires for any of these reasons can result in significant repercussions for the tenant. The best way to break a lease without a legal justification is either by obtaining court approval or seeking a mutual early lease termination with the landlord. 
Justified Reasons to Break a Lease in Texas 
According to Texas law, the following are the reasons your tenants can use to break their lease without penalty. 
1. Active Military Duty
Tenants breaking a lease early who are to start active military service are protected by the Servicemembers Civil Relief Act (SCRA) against penalties. In Texas, the relief act only applies to servicemembers, who include the armed forces and the activated National Guard. 
The tenant must provide the landlord with a copy of the deployment letters, among other things. 
2. Unit is Uninhabitable 
As a savvy landlord, you know that providing your tenant with a livable home is key to your success. A livable home is one that meets the basic health and safety codes for rental units. 
The following are a couple of things that make a rental unit livable, according to Texas Law. 
Running unheated and heated water. 

Working smoke alarms in all bedrooms. 

Functional plumbing and electrical systems. 

Safe railings and staircases. 
If a landlord fails to provide such facilities and conditions, the court may deem the tenant "constructively evicted." And therefore, the tenant may have no further responsibilities under the lease, including the responsibility to pay rent.
3. Privacy Violation
It is the landlord's duty to respect your tenant's privacy. After you have rented out the rental unit, you have no business entering the property unannounced. 
Texas state law requires landlords to provide tenants with a landlord written notice prior to entry. However, it doesn't specify how much notice a landlord must give. To avoid potential issues in the future, make sure to state the written notice requirements in the lease. 
4. Domestic Violence 
Tenants who are victims of domestic violence, stalking, sexual assault, or sexual abuse may also be able to break their lease early and cease paying rent. 
Landlords may, however, require that the tenant provide you proof of their domestic violence status before leaving. The proof of status may be in the form of a protective order, a temporary ex parte order, or a temporary injunction. 
Bottom Line
You're now familiar with your rights and obligations when it comes to a tenant breaking a lease in Texas. If you have more questions regarding landlord tenant law, Keyrenter Austin can help.
We're the most trusted and highest-rated property management company in Austin when it comes to managing single-family properties. Get in touch to learn more about our full suite of property management services TODAY!